Welcome to Nuthatch Graphics
Got a Japanese browser? Check out Kiki's Kanji Dictionary, an online, browsable Kanji dictionary to explore 3,401 kanji and 19,366 kanji compounds.
Version 1.0 of Java Kanji Flashcards 500 is a Java applet to help students of written Japanese learn the 500 most commonly occurring Chinese characters, or kanji.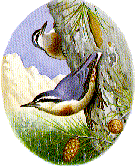 Are you interested in the small, curious birds known as Nuthatches?
Thanks for visiting!
Stephen Ryner, Jr.